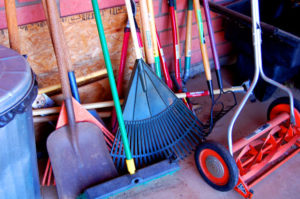 Autumn is here, which means it's time to rake leaves, decorate for the holidays and prepare your yard for winter. If you are susceptible to joint or muscle pain, these tasks may seem daunting to you. Luckily, there are many easy things you can do to cut down on aches and pains after participating in autumn chores. Here are just a few of them:
Do a quick warmup – Before venturing out into your yard to rake or shovel, get your muscles warmed up with a few minutes of light stretching or a walk around the block. Yard work requires you to use muscles in your legs, arms, shoulders and back, so be sure to target all of these areas during your warmup. Doing so will reduce your chance of sustaining an injury while working or waking up with pain the next morning.
Choose the proper tools – To minimize chore-related pain, it's important to use equipment that suits your height and weight. If you have to bend over or strain yourself in order to use a tool, chances are it's not right for you. Purchasing equipment that is comfortable and easy for you to use will cut down on your levels of soreness and stiffness following a day of yard work.
Use your whole body when doing yard work – While raking or shoveling, people commonly make the mistake of using their back to do all of the work, which can result in injuries and pain. Get some help from the rest of your body by bending your knees and using your arms and legs to help you lift things. And if your back starts to hurt, take a short break – we promise your body will thank you.
Stay active – Research shows that those who exercise regularly throughout the year are less likely to experience pain and injuries when doing outdoor chores. So be sure to stay active in some way this autumn, whether it's riding your bike, participating in a sport or taking a daily walk.
Following these steps will allow you to get your yard work finished and enjoy the beautiful autumn weather with less pain.
Come to Stillpoint Holistic Studio for Philadelphia Craniosacral Therapy
If you're having pain even when following the tips we've just discussed, it may be time to consider craniosacral therapy in Philadelphia. This gentle yet effective type of massage alleviates pain and other symptoms by encouraging the Central Nervous System to heal its own ailments.
To learn more about how Philadelphia craniosacral therapy can help with your pain, head over to our website or give us a call at 646-645-5207. And to read about the proven benefits of massage therapy, check out this post. We look forward to showing you what makes us the craniosacral therapy provider Philadelphia residents trust!